For healthier work environment
We believe that great minds thrive in a cleaner environment. That's why we offer you a suite of air duct cleaning services implemented with state-of-the-art equipment.
Pure Duct Services is a premier air duct cleaning company based in Mumbai, India. Since its inception in 2007, we have been innovating in the way we clean air ducts as per your specific requirements. Taking a step ahead, we not only clean air ducts, but also install IN-duct UV to mitigate the problem of airborne microbial contamination.
World-class equipment. Efficient services.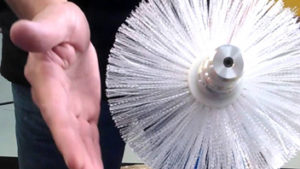 We follow a stage wise process methodology to ensure that the air you breathe from your ducts is free of contaminants
The first step is inspection. We thoroughly examine the ducts for contamination using our remotely controlled cameras or direct visual inspections. Our expert technicians utilize only the most advanced equipments imported from LIFA, Finland to then clean the duct. Our large negative suction vacuums efficiently suck the dust out of the ducting ensuring a clean duct. As a proof of our services, our robotic inspection cameras provide photographs that showcase the clean ducts and complete the process.
Though based in Mumbai, we operate all over India. Our relationship with our clients is based on trust, honesty and transparency. Our reasonable pricing, timely service and good workmanship has created a niche for us in the industry.
We define our philosophy with:

5 reasons to choose Pure Duct Services
1. 100% client focus:
We have a relentless drive to surpass client's satisfaction with our wide range of services.
2. High quality service at best price:
Our competitive price range and superior service quality makes us the prime choice for air duct cleaning.
3. Experienced and professional technicians:
We stringently select our team to ensure that you get nothing but the best.
4. Imported equipment:
We utilize latest equipments imported from LIFA, Finland.
5. Expansive experience:
We have over 7 years of experience in delivering high quality cleaning services.